Outfit of the Day: Cupcakes, Cocktails, and Curves Event
I know some of you have already seen these photos on the Facebook page, but I just had to share it here, too! The CCC event was really amazing for me. Not only was it the first event I had ever had for my store, but it was my first public event as a blogger as well. I was really nervous. We had so much to do last minute, but it ended up being a truly great night. I cannot express how wonderful and powerful it was to be in a plus size, body positive environment. Everyone was celebrating big bodies and great fashion. It was a great feeling to be in a room so full of positive, supportive people. I had a blast meeting so many of you, and I even made some new friends! I can't even explain the amount of pride I felt after this night, not only for myself and my friend Susie, who held the event at her store, but for the entire fat positive movement. I will definitely want to do more things like this in the future. 
As far as my outfit, I just had a few shots taken in the photobooth, so I don't have a lot of the details photographed. I actually got the dress from Susie's store, Embellish Plus that is now doing plus size consignment. A really sweet girl was dropping off her clothes to consign while I was at the store to work on the fashion show, and I had to get this dress the minute I saw it! It's "vintage" Torrid. I love it! I'm a sucker for a dress with pockets! I felt really beautiful that night. 
Dress: Embellish Plus (Torrid consignment)
Shoes: Steve Madden
Bracelet: Boutique in Nola
Here's a few more photos from the fashion show featuring the new stuff at the store, and some of my favorite shots with fellow bloggers, store owners, models, and fabulous friends! 

Me & fellow blogger Oh! Nikka, our friends, and me and Susie owner of Embellish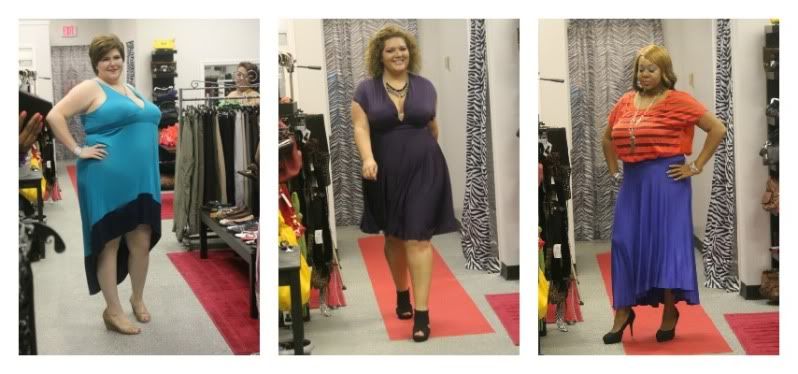 The girls in my favorite new summer stuff for Big Bang Boutique!

Bootay, cupcakes c/o Lucky 13 Bakery, and me and two of the beautiful models!
Outfit of the Day: Flower Power
This is one of my favorite casual outfits. I wore this to my favorite Atlanta music festival, Sweetwater 420 fest! It's always a great time, and the perfect start to festival season! The music is really funky, the food is good, and the beer is even better! If you follow me on Instagram or Twitter, you already saw what a good time we had! Haha.  I wore this outfit because the weather has been crazy lately. It's warm one minute, and cold and rainy the next. I wanted to look cute, be weather conscious, and be able to comfortably run around, dance, and sit in the grass without worrying about being "ladylike." I rarely wear jeans, but these are super comfortable! They're a super stretchy jean, almost like leggings but not quite. They're perfect for anyone who likes skinny jeans on curves! I'm digging wearing this outfit more often; it's got a hint of cool, a hint of hippy chick, and keeping it really casual. 
Top: American Rag via Macy's
Jeans: Big Bang Boutique
Belt: Torrid
Shoes, Hat & Cardi: Target 
Hello lovely! I just wanted to start by saying that I love the blog. I've been following for a while and I find all of your posts to be inspirational. My question for you is where do you buy bras? I haven't bought bras in a few years and my size went from a D to an F and I have no idea where to get actual cute bras in that size. I was hoping you might have some insight and if not maybe some of the people who follow you might know some awesome places. Thanks, lady!
Asked by

themagster
Hey! Great question. I actually get this alot! A good fitting bra is so so important, not only for your clothes to fit properly, but for your back to be comfortable and to not be in pain! 
Finding bras in larger sizes is really hard. Specially if you want something outside the taupe or black plain bras. I really like Simply Yours women's big bras. They have the cutest bras and they go all the way from sizes 30 all the way up to size 50. They also have some bras all the way up to an L cup! I was also really impressed to see they have actual people you can talk to to make sure you have the right size and fit. Lots of women wear the wrong size bra! Plus, they're super sexy in different colors, styles, patterns, and lace! So not only do you not have to worry about being comfortable with your clothes on, but you'll feel confident with your clothes off, too! Haha. I hope this helps and that they have what you're looking for. :)
Sooo… HERE IT IS! Even though no one did it with me. :( Fail.
But also WIN. I just posted a pretty vunerabe picture of myself for all the world to see. To accept me as I am. As I will be. And to show that I'm sexy, even though I'm not a size 2. Even though I'm not even at my weight goal. I'm done hating my body. I'm done feeling ashamed. I feel sexy, beautiful, and confadent. And you should too!
Hope this gives you the courage to submit your own… :)
http://fatgirlsguide.tumblr.com/submit
JUS SAYIN… 
EDIT: I realize this is somewhat of an outfit. So I got it at Lane Bryant for around $40. Cute, huh?